In 2018, the UN General Assembly proclaimed June 3 as World Bicycle Day. The history of this type of transport has lasted more than two centuries. Today, cycling is a lifestyle, for many, it is a hobby associated with historical reenactment or role-playing games, and retro bikes have united collectors around them. TOP 10 of the best retro bikes comprises the best representatives of this industry from different countries.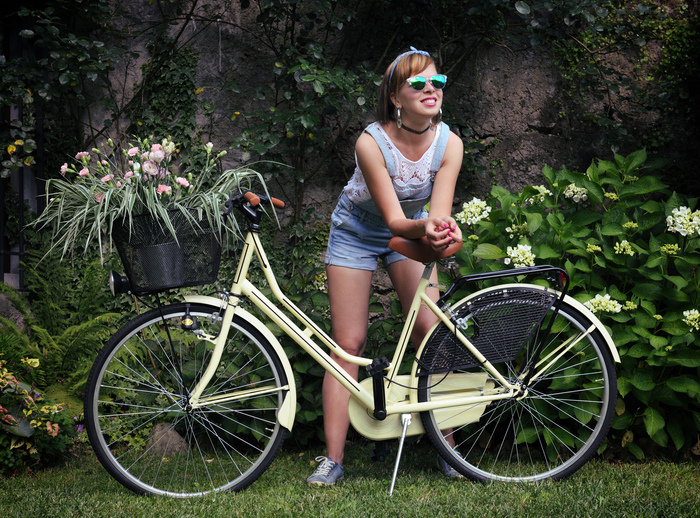 TOP 10 of retro bicycles
1 – Silver Maged Lady's Bike
Tiffany & Co. The Silver Maged Lady's bicycle was made in 1890 by renowned jewelers Tiffany & Co. In 2008, it was sold for 57 thousand dollars.

The women's retro bicycle with a silver top is arguably the most expensive vintage bicycle on the market right now. The frame, designed by Tiffany, is embellished with precious stones, gold, and precious metals. The vehicle is painted in reds and browns, in fact quite simplistic and minimal, as it appeared to be a real classic. The handlebars made of ivory, soft leather seats, gilded frame, and beautiful drawings and engravings form the beauty of a classic vehicle.
2 – Columbia Woman's
Another member of Tiffany Jewelry in our Top 10 retro bicycles, Columbia Woman's 1896 bicycle is something every woman cherishes and craves. It is designed and decorated by Tiffany artisans and engravers. This retro representative is replete with precious stones, silver, metal markings, and engravings. Its design is very reminiscent of the 19th century and is drastically different from other bicycles produced by the company.
3 – Koinago
Campagnolo's retro luxury Koinago bike includes a set of slim 700c and 650c wheels and a tubular system from famed Italian brand Vittoria. It looks beautiful thanks to its thin frame, huge wheels, gold-plated design, and white body. Its stunning aesthetic is a treat for the eyes. This retro bicycle is every vintage lover's dream. Moving on to the specs of the bicycle, the Koinago is very comfortable yet minimalist. Exotic engravings, detailed NOS components and handmade paintings in Eastern and Western style are featured here.
4 – Italjet
Italjet is an Italian company that was founded in 1959 and has been making amazing racing bikes ever since. Recently, the brand has released a classic electric bicycle that combines vintage and modern design in the best possible way. Brown leather seats, electric drives, a powerful motor and wide handlebars make for an easy ride. Vintage motorcycle elements are seamlessly combined with advanced features, turning the bike into a real work of industrial art.
5 – Askari
Ascari was a famous automotive giant in the 1930s, but beyond that, it created fantastic visual delights such as the Ascari City bike. This retro model has become one of the most popular vintage bicycle brands on the market, a coveted item by enthusiasts and collectors alike. The design includes several materials: wood, brass, steel, leather, copper and other exotic things. The hiking frame comes with a set of pumps, taillights, dynamo headlights and brakes. The Ascari bicycle comes in red, brown, white and yellow. The polished, shiny bike is extremely detailed and comes with beautiful engraving and markings.
6 – King Plus
The King Plus was made by Ascari in the 1930s and looks amazing even for a retro bike. This is a very rough-looking "rustic" bicycle that will immediately appeal to the retro lover. The frame has various shades of brown and yellow that evoke a warm, welcoming feel. It is made using wood, steel, copper, brass, leather and even rubies. Air pumps, brakes, levers and forks give the bicycle a unique look that you won't find on modern vehicles.
7 – Angelli Milano Bicci
The Angelli Milano Bicci is very different from regular old vintage bicycle. For starters, the frame is a combination of a powerful frame and slim fork design that looks sophisticated and vintage. The 1919 Evans Electric is one of the most popular bikes on the market and a favorite with art lovers. Beautiful tank and handlebars, vintage saddles, ergonomic design and strength give the Angelli Milano Bicci model an additional appeal. Headlights make cycling easy at night.
8 – Furoiserie
The Furoiserie bridges the gap between past and present. Vintage style from the 1930s has been impeccably reproduced and combined with modern technology and cutting-edge features make this bike a favorite among affluent riders to pedal from the saddle. Designed by renowned Italian design firm Pininfarina, this limited edition model features a sophisticated, rugged construction and a host of amazing features. The chocolate brown and black design looks minimalist. The frame is custom and hand-
welded, with textured handlebars and an ergonomic seat.
9 – Haak
The white and gold frame of the Haak retro bike is a real treat for the eyes. The Arabesque model, restored in 2016 by Colnago, is one of the best vintage luxury bikes in Spain. The royal design includes 24-carat solid gold plating, soft white leather seats and the classic company logo. The handlebars and the overall construction of the bike are solid, suitable for adult hobbyists and professionals alike. One can even customize the dimensions of the bike. Haag Bicycle is a stunning combination of aesthetics and practicality.
10 – Streamliner
Predominantly red, black and stylish, the Streamliner was aptly described by Road Kany's Blake Adams as a "red bike" that recreates the '30s era. This rare vehicle is reminiscent of the cars of its time with raised pedal platforms, ergonomic handles, valves and luxurious Rolls Royce seats. The taillights have been restored as they have been badly damaged over time; Buick's new lights are the perfect complement to the bike's elongated, elegant design. The bicycle was auctioned off in 2010 at the Grand National Roadster Show and is now used at annual events such as Formosa CA and Bowling Green KY.